WheyXX
Earn up to 37 Reward points
WheyXX
Reducing calories to remove some weight can only take you so far – but when you add WHEYXX, you'll lose more body fat while preserving your muscles. Studies show that consuming a whey-based protein one hour before and after strength workouts will lead to increased size and strength of your muscles.
3 Easy Ways to Enjoy WHEYXX
Stir, Shake, or Blend
You can get your WHEYXX in daily no matter where you are with three easy ways to prepare and enjoy your whey protein supplement. Stir and sip from a glass, shake it up in your shaker bottle, or blend it like a smoothie – the choice is yours.

Blender (Easy: a little more involved but worth the trouble)*
Add one scoop of WheyXX to a blender filled with 6-8 fl oz of your favorite beverage. Cover and blend for 20-30 seconds. Add 1-2 ice cubes then blend for an additional 30 seconds. Serve. For a delicious smoothie, try adding your favorite fruit, peanut butter, yogurt, shredded coconut, and/or other ingredients (along with ice cubes) to your blended whey protein shake.

Shaker (Easier: Quick & Convenient)*

Fill a shaker bottle with 6-8 fl oz of your favorite beverage. Add one scoop WheyXX . Cover and shake for 25-30 seconds.

Glass & Spoon (Easiest: Fast & Simple)*
Simply add one scoop of WheyXX to a tall glass. Add 6-8 fl oz. of your favorite beverage. Mix with a spoon for about 20 seconds or until powder is well disbursed.
Here's what makes WheyXX so effective:

Whey Protein Concentrate

Whey protein supports a healthy body that can burn fat, it improves insulin sensitivity, and it helps build healthy muscle size. Whey protein concentrate is created from a process of filtering milk. What's left behind in the process is dried and turned into whey concentrate for your shakes.

Benefits of WheyXX whey protein concentrate are:

Fat loss without muscle loss
Reduced hunger
Increased muscle size and strength
Protein increases mental clarity and helps manage stress
Fewer calories and fat

Whey Protein Isolate

Whey protein supports power and muscle building during for the most intense workouts. Whey protein concentrate helps you get bigger and better results consuming too many calories and carbs. Whey protein concentrate is just one of the three forms of the protein on the market.

Choosing WheyXX protein isolate is best for those who are intolerant to lactose. Whey protein isolate is ideal for athletes and bodybuilders looking at products for developing and maintaining muscles.

Whey protein isolate:

Stimulates muscle growth and development

Is low in lactose to curb bloating and discomfort

Has fewer calories than concentrate

Has higher levels of protein per servings

Sunflower Creamer

Sunflower creamer is 100% vegan and vegetarian friendly. It's a non-dairy creamer for coffee, teas, ice cream, and other drinks. Sunflower seeds have been used to help fight illnesses, to balance blood sugar levels, to provide selenium to the body for optimal thyroid function, and to reduce heart disease.

Lactose free

Stable

Delivers nutrition to the body

Adds creaminess

Improves color and flavors of drinks and foods

Perfect for instant drinks and protein shakes

4 androstene-3b-ol, 17-one

Digestive enzymes are critical for optimal digestion and health. Your body produces its own enzymes, but some foods can cause indigestion and other digestive tract issues, especially if you are lactose intolerant or experience stomach bloat. If your body is short on digestive enzymes, chronic disease and discomfort can occur.

Papain

Papain is a digestive enzyme taken from the papaya fruit. Papain is used in cosmetics, foods, skin care, and more importantly, to break down proteins in the stomach.

Treatment for pain and swelling

Controls fluid retention

Digestive enzyme to treat parasitic infections and discomfort

Reduces muscles soreness after physical activity

Lactase

Lactase is an enzyme that helps people digest lactose from milk products and whey protein concentrate. Lactase has one specific purpose, to help people digest lactose. Lactose is a sugar found in milk products. People without the ability to digest it suffer from cramping, diarrhea, gas, and constant discomfort. Lactasese.

Prevents intolerance side effects Can be taken when consuming milk products Can be added to foods that contain dairy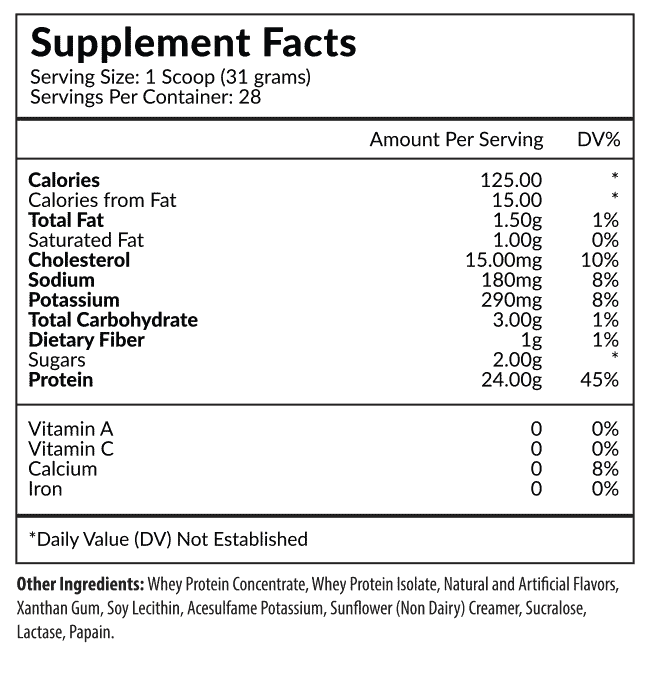 Directions
To encourage a positive nitrogen balance, consume approximately 1 gram of protein per pound of body weight per day from a combination of high protein foods and supplements. For even better results, consume your daily protein allotment over 4-6 small meals spread evenly throughout the day.
Example: 180lbs x 1g protein/lb body weight = 180g per day
180g / 6 small meals = 30g protein per meal
Each serving of WheyXX provides 24g of protein.
Warning
ALLERGEN WARNING: This product is processed in a facility where dairy, nuts and shellfish are made.