Vaxxstane
$49.99 -80%
In stock
Earn up to 10 Reward Reward Points.
Sale!
Vaxxstane
$49.99 -80%
In stock
Earn up to 10 Reward Reward Points.
Aromatase Inhibitor
Androst 3,5-dien-7,17-dione, 3-deoxy-7-oxo-DHEA, 7 Keto DHEA
Here's the key to bragging about your increased lean body mass and decreased body fat… and not your increase in estrogen and sexual function! Vaxxstane is an aromatase inhibitor that raises your natural myotropic state so you can grow muscle mass, increase testosterone, improve your libido – and do it all without worrying about an increase in estrogen.
Buy Vaxxstane for muscle growth and to keep your gains.

AROMATASE INHIBITOR
 Skip the water retention and estrogenic side-effects during your cycle and in between cycles with Vaxxstane. Who wants to worry about gynecomastia or high estradiol levels? Vaxxstaneis the suicide aromatase inhibitor you should take while using any pro hormone supplements. Don't leave your estrogen-related side effects to chance, prevent them and protect your lean muscle gains with Vaxxstane.
Why Choose Vaxxstane
There are four primary benefits of choosing Vaxxstane over any other lean muscle agent:

Increase Lean Muscle Mass*
Aromatase raises your natural myotropic state to assist with the growth of muscle mass and decreasing fat storage.

Helps Gynecomastia*
Exxstane decreases estrogen production to prevent estrogen-related side effects from your cycle.

No Bloating*
Show off the lean muscles you've been working hard to grow without a layer of water hiding them from view.

No Negative Sexual Side Effects*
Being satisfied with your gym results doesn't mean losing satisfaction in the bedroom
Here are the ingredients that allow Vaxxstane to do its job.

Androsta

Androsta-3,5-diene-7,17-dione (Androsta) is a metabolite of the aromatase inhibitor 7-Keto-DHEA. When the prohormone DHEA metabolizes, it creates the naturally occurring compound. Androsta, the suicide inhibitor offers the following benefits.

Create a strong bond with aromatase enzyme

Strong as aromasin by less expensive and easy to get without a prescription

Reduces the stress hormone cortisol

Aids in weight loss

Improves the immune system in clinical studies

Improves conditions related to aging

When your body reduces cortisol, it allows it to respond better  to workouts and muscle gains, as well as weight loss. When cortisol is low, recovery improves.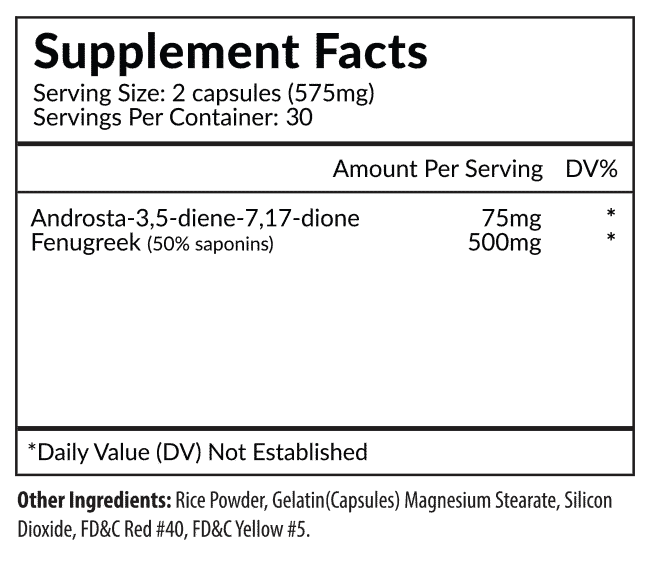 Directions
As a dietary supplement take two (2) capsules one time per day with a meal. Do not exceed two (2) capsules daily.
Use Vaxxstane alongside any usage of DHEA derivative hormones to help prevent estrogen conversion, assist in raising free testosterone and avoid the numerous unwanted side effects caused by estrogen (i.e. bloating, hormone suppression, sexual dysfunction, etc).
The half-life of Arimistane (Androsta-3,5-diene-7,17-dione) is roughly 2.5 hours and has peaked in the plasma around 2 hours. Depending on your dose, we suggest taking 1 pill, 2-3 times per day to reach desired dosage. Some individuals prefer to pyramid their dosage as follows:
First week: 100 mg per day
Second and third week: 75 mg per day
Fourth (and fifth) week: 25 mg to 50 mg per day
Warning
For use by healthy adults only, not recommended for persons under the age of 18. Do not use if you are pregnant or nursing. Seek advice from a healthcare professional if you have any preexisting medical condition to ensure it is safe to take this product. In case of accidental overdose contact a poison control center program, immediately. Do not use this product if you have a family history of prostate or kidney disease or endocrine condition. Exceeding recommended serving will not improve results and may cause serious adverse health effects. Keep out of reach of children.