Leftovers
Leftovers

LEFTOVERS
Leftovers is made from real food sources, such as sweet potatoes for healthy carbohydrates and long lasting energy. It's soy-free, contains no-artificial dyes, and 100% vegan. With 16 grams of protein per serving, you'll reach your daily protein intake with ease. Use Leftovers in place of a meal to maintain or lose weight, or take it with a meal to improve your nutrition with medium chain triglycerides for healthy fat and organic coconut water for rehydration after a workout
Real Food Meal Replacement
Now you can stick to your vegan diet and still enjoy the benefits of a quick vegan meal replacement with our Leftovers shake:

Healthy Fats*
Leftovers contains medium chain triglycerides (mct) that help you lose fat and increase energy.

Rehydration*
Organic coconut water contains about 600 mg of potassium, making it a high electrolyte substance. Electrolytes can help reduce fatigue, relax muscles, maintain blood volume, heart health, and help prevent dehydration.

Healthy Carbs*
Leftovers relies on sweet potatoes to keep you fuller longer, add important nutrients to your diet like fiber, vitamin A, C, manganese, and antioxidants.
What's in Leftovers?
Plant-based protein offers a variety of advantages over meat proteins, including taking your body longer to metabolize. The longer your body works at metabolizing the plant protein you've consumed, the better your body becomes at burning extra fat.

Pea Protein Isolate:

Instead of using Whey with animal products, Leftovers uses vegan-friendly pea protein isolate. Pear protein is dairy and casein free. This is good news not only for people with a dairy intolerance or vegan
Organic Brown Rice Protein 

Brown rice protein is an excellent substitute for those with a gluten sensitivity or Celiac disease. Brown rice is also vegan and vegetarian friendly. Brown rice has been proven to provide as much muscle-building assistance as whey protein powders.

Coconut Water Powder

Coconut powder is made from the juice of young coconuts. Each scoop delivers enough potassium and essential electrolytes to improve not only health but to support a great workout, too.

MCT Creamer 

MCT, or medium-chain triglycerides, is an amino acids chain. The body uses MCTs as a direct source of energy. It is healthy for the heart and great for weight loss.

Fruits and Veggies

Of course, a vegan and vegetarian diet relies on a lot of fruits and veggies. Fruits and veggies contain essential vitamins and minerals, and they are packed full of antioxidants to support a healthy, animal-product-free life.

Digestive Enzyme Blend 

To aid in your body's digestive health and ability to burn fat, Leftovers includes digestive enzymes like Amylase, Papain, and Bromelain.

Immunity Support Blend

Leftovers offers probiotics and ingredients designed to support a healthy immune system. Fueling your body with the nutrition it needs helps you maintain better health.

Insulin Support Blend

A diet that is high in processed carbs and sugar can cause high blood sugar, fatigue, and food cravings. High blood sugar also leads to insulin resistance, preventing your body from carrying blood sugar to your cells for energy. Leftovers offers insulin support to help balance blood glucose levels, optimize blood sugar metabolism and promote a healthy response to insulin.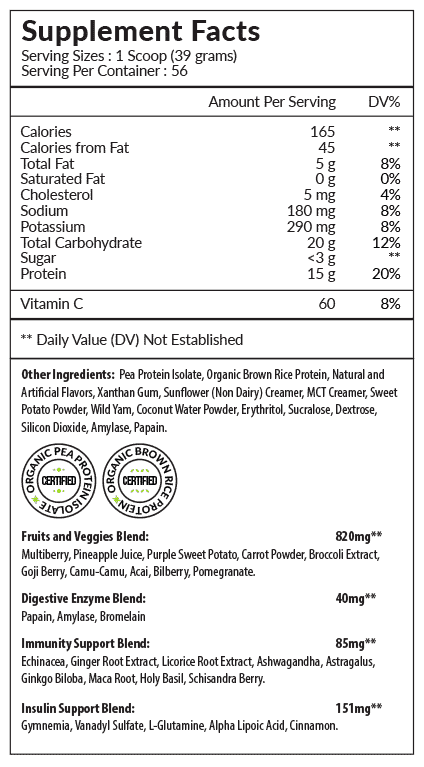 Directions
Take One heaping scoop in 12-16oz of cold water. Can be taken with or without food.
Warning
ALLERGEN WARNING: This product is processed in a facility where dairy, nuts and shellfish are made.