Keto1 Ketogenic Preworkout
Earn up to 40 Reward points
Keto1 Ketogenic Preworkout

KETO1 PRE-WORKOUT
The worst thing about many pre-workouts out there on the market is the inclusion of carbohydrates and sugars. Such added ingredients can not only completely knock you out of ketosis but will send your energy levels on a track similar to a roller coaster. For that reason, there was a need for a keto-friendly pre-workout to hit the shelves. So, who better to do it than Vaxxen Labs?
Keto1 Pre-Workout contains no carbs, no fillers, no artificial flavors or dyes, and no junk. PERIOD. Just high-quality ingredients to get you ready for the ensuing workout. Maintain ketosis by utilizing a pre-workout made specifically to suit your individual needs with your ketogenic lifestyle. Fuel your body by utilizing your own body fat as well as natural caffeine sources.
TAKE YOUR WORKOUTS TO NEW HEIGHTS!
When consistent, clean, and natural energy sources are what you're looking for, Keto1 Pre-Workout is there to fit the bill. With natural caffeine and green tea extract providing a powerful boost in energy production, you can push yourself harder every time you step into the gym – ultimately allowing you to add the quality size you demand. Added BHB further allows for an increase in energy production and the conversion of body fat into a usable form of fuel.
Along with the energy benefits comes the nitric oxide product which leads to insane pumps that draw attention. With the floodgates open to your muscles, nutrients and water can more easily shuttle into the muscle, providing an almost painful pump with veins that resemble a roadmap.
Nootropic ingredients add another dimension to this already stacked ketogenic pre-workout. Get focused on your workout so you can feel each muscle fiber contracting and elongating – providing a mind-muscle connection unlike no other.
Specific Ketogenic Formula to Maximize Your Results
Take your workouts to the next level!

MAXIMIZE MUSCLE GAINS
In order to build quality lean muscle, you need to progressively overload the muscle during workouts. This can be accomplished by priming your body with our pre-workout that not only gets you laser-focused but also helps you push harder with every set. Keto1 Pre-Workout can assist you with adding the quality lean mass you desire.

INCREASE ENERGY PRODUCTION
Keto1 Pre-Workout provides you with a long-lasting energy source that fuels your workouts without experiencing the highs and lows commonly associated with other pre-workouts that include carbohydrates and sugars. Enjoy a natural boost through the use of all-natural energizing ingredients.

BOOST COGNITION & FOCUS
When lifting heavy weights, you need to be extremely focused to not only help work the muscle itself but to also ensure you're maintaining proper form to reduce the risk of injury. Keto1 Pre-Workout is THE product to help you do just that. Solidify a foundational mind-muscle connection so you can feel each muscle fiber being activated with each rep thanks to the nootropic ingredients. Help bolster cognitive function and mental acuity to improve your overall performance.
THE POWER BEHIND THE PRE-
Beta-Hydroxybutyrate
When in a state of ketosis, the body switches over from utilizing carbohydrates as a fuel source to breaking down body fat into usable fatty acids. When the body breaks down the fatty acids, ketones are formed – one of which is Beta-Hydroxybutyrate (BHB). Supplementing with exogenous ketones helps provide energy to the body which can be used as fuel during workouts.
L-Citrulline
In order to achieve a pump during your workout, the body needs to increase arginine levels in order to support the production of nitric oxide. L-Citrulline helps enhance vasodilation, which aids in reducing fatigue, as well as having the ability to boost performance.
Beta-Alanine
Supplementing with Beta-Alanine can help build quality lean muscle mass. In addition, this ingredient has the ability to enhance focus which can improve workout performance as well as enhancing endurance – allowing you to push yourself harder and longer in the gym.
Green Tea Extract
The use of Green Tea Extract can help boost natural energy levels. It provides a nice consistent source of energy without the abrupt crash that follows from other stimulants. In addition to the energy production, Green Tea Extract contains powerful antioxidants that can prevent damage to the body (such as the cells) due to free radicals. Green Tea Extract may also help improve fat loss.
Natural Caffeine
Maximize your energy levels by taking a source of natural caffeine before workouts. Boosting energy can provide you the opportunity to maximize your effort and lifts during your workouts.
Citicoline
This potent nootropic can help improve memory, focus, and mental sharpness – all qualities you should look for when trying to get your head in the game prior to a workout and during. Supplementing with citicoline can aid in allowing you to better feel each rep of a set to achieve a hard contraction to tear down muscle fibers to be rebuilt.
L-Theanine
While L-Theanine has been known to help people relax, another benefit it possesses is the ability to improve mental focus, alertness, and attention span. These are all necessary properties when trying to get dialed in for a grueling workout and focus on the task at hand.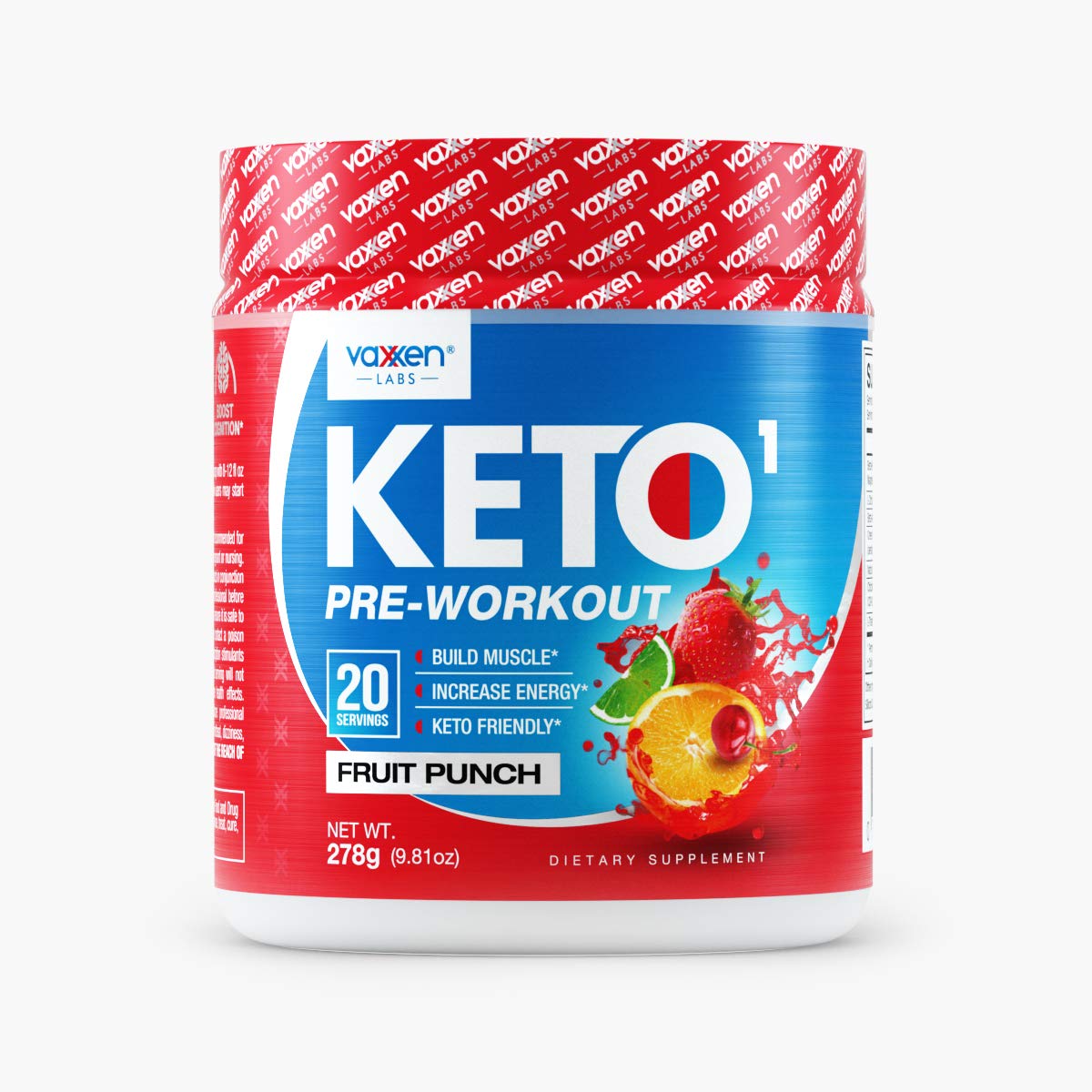 Keto1 Ketogenic Preworkout