Descend
$69.99 -86%
In stock
Earn up to 10 Reward Reward Points.
Sale!
Descend
$69.99 -86%
In stock
Earn up to 10 Reward Reward Points.
Post Cycle Therapy (PCT)
Return your internal organs back to their pre-cycle, optimal operational levels with Descend. Recharge your body safely. After a cycle, your body needs to re-balance, and descend to its pre-cycle hormonal levels. Add Descend to the end of your cycle for post-cycle therapy (PCT) and return your blood panel to homeostasis faster.
Buy Descend to decrease your recovery time in between cycles.

POST CYCLE
Even the gentlest of pro-hormone supplements can affect the hormone levels in your body. Use Descend to re-balance after your cycle and return your blood panel back to pre-cycle levels much faster, while supporting your internal organs from increased stress.
Organ support and hormone re-balancing
Give your body the attention and support it needs post cycle, too, with these important benefits.

Decreased Recovery Time*
When your body rebalances faster, you can get back on cycle faster and see bigger gains in less amount of time.. .

Improved Blood Panel*
Get your blood panel to homeostasis after a cycle faster.

Increase Energy Post Cycle*
Supporting your internal organs and recharging your body with Descend will give you more energy post cycle.
How Descend Helps Achieve Gain
Descend's key ingredient, 5a-hydroxylaxogenin, will promote a smooth transition. Laxogenin is part of a group called Brassinosteroids which are synthesized from plants. In a recent published study, it can be concluded Brassinosteroids, such as 5a-hydroxylaxogenin, trigger an anabolic (or growth) effect in the body through increasing your protein synthesis while inhibiting protein breakdown. Inhibiting protein breakdown will procure total body benefits such as lean muscle mass and improved lean muscle mass.
Here's a breakdown of the ingredients.

Androsta

Androsta-3,5-diene-7,17-dione (Androsta) is a metabolite of the aromatase inhibitor 7-Keto-DHEA. When the prohormone DHEA metabolizes, it creates the naturally occurring compound. Androsta has the ability to:

Create a strong bond with aromatase enzyme

Offer the benefits of aromasin without the expense and need for a prescription

Reduce cortisol, which your body releases when under stress

Encourage weight loss

Boost the immune system in clinical studies

Improve conditions related to aging

5a-hydroxylaxogenin

5a-hydroxy-laxogenin is a steroidal sapogenin. 5a-Hydroxy Laxogenin is a compound first discovered in 1996. It is similar to Anavar, but it doesn't have the dangerous side effects, so no worries of of liver toxicity or steroids in your system. Users report strength gains in as little as 3 days, and mass gains in a single month.Choosing WheyXX protein isolate is best for those who are intolerant to lactose. Whey protein isolate is ideal for athletes and bodybuilders looking at products for developing and maintaining muscles.

Whey protein isolate:




Stimulates muscle growth and development

Is low in lactose to curb bloating and discomfort

Has fewer calories than concentrate

Has higher levels of protein per servings

Chrysin

Chrysin as a dietary supplement desired for its healthy testosterone support. It restores T-levels in users, especially athletes and bodybuilders. Chrysin is also desired for its ability to maintain sexual health, boost antioxidant effects, and to control inflammation in the body.

Lactose free
Stable
Delivers nutrition to the body
Adds creaminess
Improves color and flavors of drinks and foods
Perfect for instant drinks and protein shakes

Ubiquinol

 

Ubiquinol is a converted form of the naturally occurring Coenzyme Q10 (CoQ10).The new substance is necessary for the cells to create energy.


As we get older, production of CoQ10 begins to decrease. The ability to convert CoQ10 into ubiquinol goes down too. Reduced ubiquinol levels has been linked to heart, brain, liver, and diabetes-related conditions.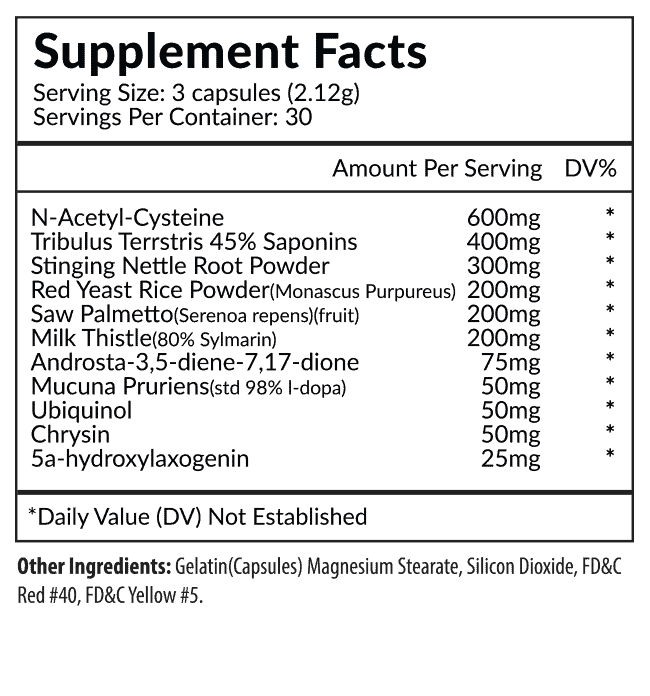 Directions
As a dietary supplement take three (3) capsules one time per day with a meal. Do not exceed three (3) capsules daily.
Warning
DIRECTION & INGREDIENTS
Directions
As a dietary supplement take three (3) capsules one time per day with a meal. Do not exceed three (3) capsules daily.
Warning
For use by healthy adults only, not recommended for persons under the age of 18. Do not use if you are pregnant or nursing. Seek advice from a healthcare professional if you have any preexisting medical condition to ensure it is safe to take this product. In case of accidental overdose contact a poison control center program, immediately. Do not use this product if you have a family history of prostate or kidney disease or endocrine condition. Exceeding recommended serving will not improve results and may cause serious adverse health effects. Keep out of reach of children.