Chainlink
Earn up to 30 Reward points
Chainlink

Balanced Nitrogen for Muscle Growth
Give your muscles the attention and support they need for growth and recovery, with these important benefits.

Deliver Nutrition to Every Cell*
Instaminos™ provides optimum cellular nutrient uptake ensuring maximum results and recovery. 

Hydrate to Improve Muscle Function*
When you sweat, you lose electrolytes. Chainlink replaces electrolytes to ensure the appropriate amount of water in your body, the acidity of your blood, and improved muscle function.

Zap Cortisol Levels*
High levels of cortisol cause muscle weakness, fatigue, high blood pressure, and cognitive difficulties. Chainlink can reduce cortisol for a variety of health benefits.

Improved Sense of Well-Being*
Chainlink reduces your stress levels. Managing stress is vital for your overall health, improving mood and the function of the immune system.
Protect your Muscles Against the Catabolic Effects of Dieting
Chainlink's key ingredients, Instantized BCAAs, otherwise known as InstAminos(™) maintains muscle growth and strength even when you're dieting to slim down. BCAAs reduce the rate of protein breakdown and improve workout intensity.

L-Luecine

An essential amino acid that works in the body to promote growth and recovery of both muscle and bone tissue, helps regulate blood-sugar levels, and assists in  your body producing growth hormone.

L-lsoluecine 

An essential amino acid that helps support blood clotting of wounds and assists with muscle tissue repair. It's also imperative for boosting energy and increasing stamina.

L-Valina
An essential amino acid that assists with muscle synthesis and maintenance, reduces stress, supports a healthy immune system, and provides nitrogen balance.

L-Glutamine 

Over 61% of skeletal muscle is L-Glutamine, an amino acid that consists of 19% nitrogen. In the body, it is the primary transporter of nitrogen to the muscle cells. L-Glutamine helps minimize muscle breakdown and improves protein metabolism.

Coconut Water Powder
Formed naturally inside the shell of a coconut, coconut water is full of vitamins and minerals while being almost fat free. It is a great way to replenish energy and lost electrolytes during exercise.

SerinAid®
Serinaid® improves cellular functioning throughout the body – especially in the brain, while slowing down age-related cognitive decline and boosting mental focus.
DIRECTION & INGREDIENTS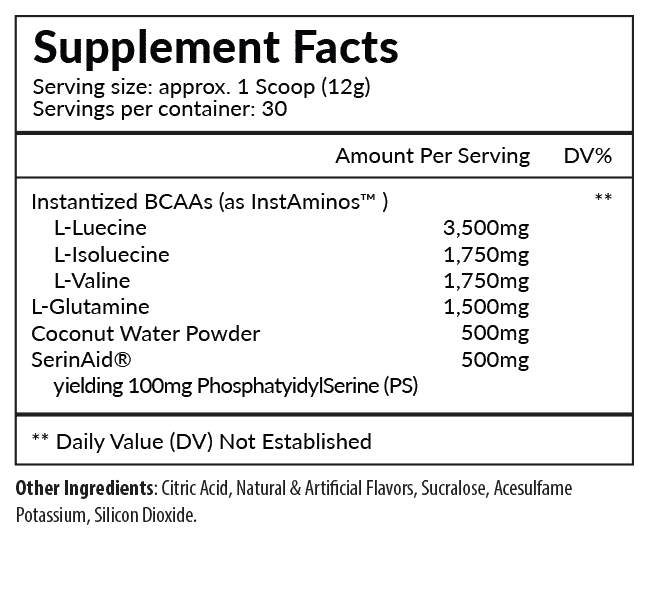 Directions
As a dietary supplement mix 1 scoop in 8-10oz. of water prior to your workout. May be used before, during, or after workout.
Warning
For use by healthy adults only, not recommended for persons under the age of 18. Do not use if you are pregnant or nursing. Seek advice from a healthcare professional before taking if you have any preexisting medical condition to ensure it is safe to take this product. KEEP OUT OF THE REACH OF CHILDREN
FAQS
We have utilized a 2:1:1 ratio with a 7g formula. Glutamine has been added for its enhanced anti-catabolic effects.
My product has a little grit – what is that from?
We added coconut water extract for an electrolyte source to improve hydration in lieu of added sodium. This allows us to preserve the product's amazing flavor.
How should I mix my Chainlink BCAA?
We recommend mixing with 10-12oz of cold water or to your desired sweetness.
SerinAid™, otherwise known as PhosphatidylSerine, plays a critical role in many important functions including mood regulation, lowering of cortisol, reduced fatigue, reduced muscle soreness, and speeds up recovery time in individuals. Read all about the trademarked compound here:
I'm not Vegan, can I still use your BCAA product?
Absolutely! There are many misconceptions between normal vs Vegan Amino Acids. There is little to no taste or cost difference – however, Vegan Amino Acids come from fermented sources such as corn, whereas typical Amino Acids (non vegan) can be derived from fur, hair or feathers. Vegan Amino's are the clear choice if you have not already made the switch, especially being as there is virtually no mark up in price for sustain ably sourced products that do not come from animal hair!
When should I drink ChainLink?
We chose to make this a versatile product and to avoid caffeine so it can be taken at any point during the day or night. It is formulated and best used before, during, or after your workout to maximize its cortisol reducing, muscle recharging, mind-focusing, nutrient-take and anti-catabolic effects. Really…. It's a game changer.