Axxis
$89.99
Earn up to 90 Reward Reward Points.
Axxis
$89.99
Earn up to 90 Reward Reward Points.
4-DHEA
If size is what you're after, AXXIS is what you need. Blast through the ceiling of your size and strength limitations. AXXIS is our most powerful mass anabolic agent designed to produce rapid gains in strength and size within a few weeks of using. That plateau you've been stuck in is no match for Axxis.
Experience the power of AXXIS – get bigger, stronger – fast.

MASS AGENT
If size is what you're after, AXXIS is what you need. Blast through the ceiling of your size and strength limitations. AXXIS is our most powerful mass anabolic agent designed to produce rapid gains in strength and size within a few weeks of using. That plateau you've been stuck in is no match for AXXIS.
Everyone hits a plateau every now and then. Don't let it stop you from gaining mass. AXXIS is a DHEA derivative that adds new muscle tissue for big results. Increase your intensity at the gym, see fast strength gains, and help your body to release IGF-1 and natural HGH
Change Agent to Become Massive*
Adding new muscle tissue is the key to gaining the massive size you're after. AXXIS increases energy, increases new muscle growth, and improves cell repair for faster results.


Increase Workout Intensity*
With more energy, you can use that fuel to push your body beyond limits. AXXIS will do the rest to make sure those efforts are awarded with bigger gains.

Add New Muscle Tissue*
Don't just make the muscles you have bigger and stronger – add new muscle tissue to your body for more strength and size.

Improve Your Sex Life*
Other pro-hormones may negatively affect your performance in the bedroom – but AXXIS will improve your sex drive.

Speed Up Recovery*
Give your body the tools it needs to repair muscles while also improving cell repair for your brain and heart.
*These statements have not been evaluated by Food and Drug Administration. This product is not intended to diagnose, treat, cure or prevent any disease.

Time-releasing Esters:

4 androsteine-3b-ol, 17-one Undecanoate and 4 androstene-3b-ol, 17-one Caprylate

An ester is an organic compound that is made by using an alkyl or other organic to replace the hydrogen of an acid. The role of esters is to lower water solubility and boost fat solubility. That allows compounds to attach to form in the muscle instead of the blood.

You know it is an ester when it ends with the suffix "ate."

4 androstene-3b-ol, 17-one Undecanoate

4 androstene-3b-ol, 17-one Undecanoate is an oral 4-DHEA undecanoate is a long-lasting compound that offers advantages of testosterone without the side effects. It causes growth of the male organs and muscles, muscle thickening, and as well as anabolic benefits.
4 androstene-3b-ol, 17-one Caprylate
4 androstene-3b-ol, 17-one Caprylate is a salt or ester that is part of caprylic acid. Caprylic acids have been used to treat fungal and bacterial diseases. It is a fatty acid chain that is easily digested by the body.

4 androstene-3b-ol, 17-one

AXXIS is a mass anabolic agent that is designed to support rapid muscle growth and strength. When taken as a dietary supplement twice per day, AXXIS can deliver the benefits of anabolic supplements without the side effects of anabolic steroids.AXXIS is a prohormone that is also known as 4-DHEA. DHEA, or dehydroepiandrosterone, is a hormone that your body is capable of naturally producing. The role of DHEA in your body is boosting testosterone and estrogen production
As you age and when you work out, you need strength. Benefits of 4 androstene-3b-ol, 17-one support overall health and physical well-being:

Improves memory and concentration

Maximizes blood flow to muscles

Boosts production of essential hormones

Aids in building bone strength

Increases muscle strength and health

Reduces inflammation in muscles

Kickstarts energy and stamina

Helps body maintain a healthy weigh

Liposomal Delivery System
Don't let your supplements go to waste. It's a proven fact our bodies do not absorb most of the vitamins and supplements we take – until now.
Liposomal delivery provides a protective layer around the supplement to ensure your body can more fully absorb the benefits.
Liposomal is the process of delivery important peptides and proteins straight to the body. It is the process of controlled delivery, which can be challenging with oral ingestion. Time-releasing esters improve targeted delivery.
By activating enzymes for oral delivery, the liposomal delivery system provides maximum absorption and improves bioavailability.
DIRECTION & INGREDIENTS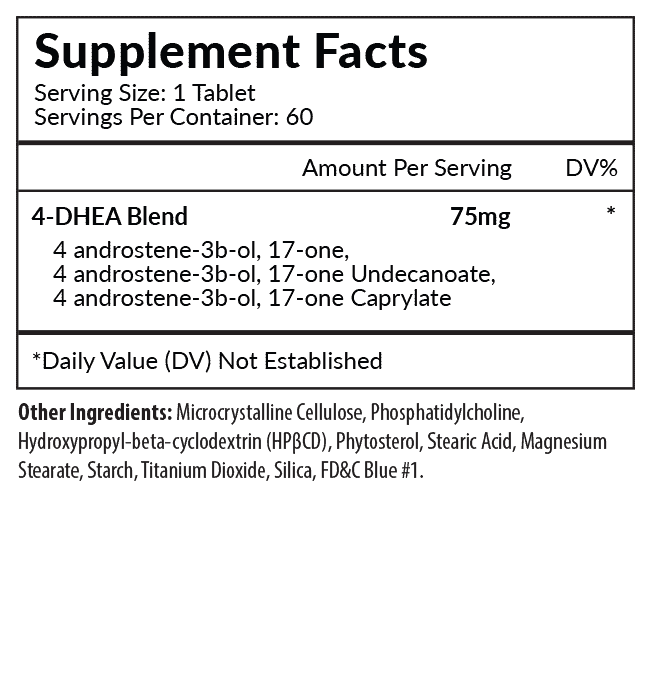 Directions
As a dietary supplement, take 1 tablet twice per day. Do not exceed 2 tablets daily. Store in a cool, dry place, away from light.
Warning
KEEP OUT OF REACH OF CHILDREN. NOT FOR USE BY INDIVIDUALS UNER THE AGE OF 18 YEARS.
Consult a physician or licensed qualified health care professional before using this product if you have, or have a family history of, prostate cancer, prostate enlargement, heart disease, low "good" cholesterol (HDL), or if you are using any other dietary supplement, prescription drug, or over the counter drug. Do not exceed recommended serving. Exceeding recommended serving may cause serious adverse health effect. Possible side effects include acne, hair loss, hair growth on the face (in women), aggressiveness, irritability, and increased levels of estrogen. Discontinue use and call a physician or licensed qualified heath care professional immediately if you experience rapid heartbeat, dizziness, blurred vision, or other similar symptoms. This product contains steroid hormones that may cause increased facial and body hair, voice deepening. If you are at risk for prostate or breast cancer, you should not use this product. Do not use if governed by anybody that prohibits hormone use.
FAQS
How often should I take Axxis?
Take two capsules daily (one in the morning and one at night) for 4-8 weeks, followed by Descend post cycle therapy.
Does Axxis require cycle support?
Yes. Due to the strength of this product, we strongly recommend using Pillar, our all-inclusive cycle support.
We recommend no longer than 8 weeks, followed by post cycle therapy to allow your body to regain a level of homeostasis.
What happens if I miss a dosage?
Don't worry, you won't deteriorate. The esters from your previous dose will keep your levels stable while Axxis' ingredients are steadily released into the bloodstream. Simply resume with your next dose.
Can I drink alcohol while taking Axxis?
While we strongly advise against it, please exercise restraint if you decide to consume alcoholic beverages while taking Axxis. Alcohol promotes estrogenic activity which inadvertently suppresses testosterone.
Can I take this product with your other prohormones?
Simply put – yes. However, depending on your prohormones experience and overall health goals, please exercise caution while structuring your cycle. Feel free to contact us with any questions.
After my post cycle, how soon can I run another cycle?
The rule of thumb is, time on = time off. If you have been taking Axxis for 4 weeks, we recommend taking a full 4 weeks off following your post cycle therapy (Descend).
Since Axxis acts as a testosterone base, we do not suggest women take Axxis (unless they are specifically looking for a testosterone base).
How old should I be before I take Axxis?
You must be 18 years of age or older.
Do I need to take Axxis with a meal?
Taking Axxis on an empty stomach will always enable fast and effective absorption, but our liposomal coating also ensures full bioavailability, so it can still be taken with a meal. Do what works best with your schedule.
What is the difference between Axxis, Androxx and Norexx?
Axxis is a testosterone base delivered as a wet bulker. Users can expect improvements in muscle size and strength and major increases in libido. Support is necessary, and the product is not recommended for women. Androxx  is a lean mass product producing dry gains. There is no estrogen conversion and it is NOT liver toxic. Norexx  provides all the joint and healing benefits of a 19-nor. It's best stacked with Axxis or Androxx and is safe for women. Users can expect to build lean mass and experience strong gains.